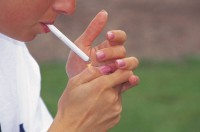 With all the publicity breast cancer and prostate cancer receive, many people assume they are the top cancer killers in the U.S. While breast and prostate cancers are the two most frequently diagnosed cancers, lung cancer, only third in number of diagnoses, actually kills twice as many people as its more common cousins.
Current and former smokers comprise the majority of lung cancer victims, but non-smokers are also at risk, particularly if they have lived with a smoker or worked in a smoke-filled environment. In some cases, the dangers of second-hand smoke can elevate cancer risk to the same level of cigarette smokers.
The bad news for lung cancer victims is that the 15% 5-year survival rate has remained unchanged over the past four decades, despite the tremendous progress in cancer diagnosis and treatment that has resulted in greatly improved cancer survival rates for many other types of cancer.
Symptoms that mimic common respiratory illnesses and the late arrival of symptoms make early detection of lung cancer difficult. Researchers have been working to develop better screening procedures that could prompt earlier lung cancer discovery and treatment. At Stanford University, researchers have had some success using a lung CT scan to diagnose lung cancer. Among study participants, early detection improved lung cancer survival rates by 20%, but the high level of false positives (95%) remains problematic.
The advanced alternative cancer treatments developed by Issels Integrative Oncology have been instrumental in helping many lung cancer patients achieve complete, long-term remission of advanced lung cancer. Visit our website for case studies and patient stories.