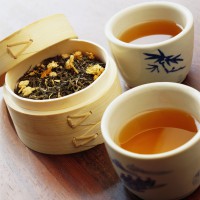 In the great debate over which is better for you — coffee or tea — both offer excellent health benefits, including the ability to help prevent certain types of cancer. For cancer survivors and those actively fighting cancer, the substances in coffee and tea may give your immune system a boost and improve mind-body function, particularly your ability to cope with cancer-related stress.
In our previous post we discussed the benefits of coffee; today we focus on the cancer-fighting benefits of tea (some findings may be preliminary or based on small patient samplings, but all offer promising avenues for further research). It should be noted that while herbal teas may confer their own benefits, they do not offer the benefits noted below.
Tea. Many people find the ritual of drinking tea to be a relaxing and comforting experience. There is a mindfulness to "having a cuppa" that creates a feeling of harmony between mind and body.
Antioxidants. Tea contains high concentrations of free radical-neutralizing antioxidants. Free radicals can cause cell damage that contributes to the development of all types of cancers. When possible choose green tea which contains the highest concentration of polyphenol antioxidants.
Skin cancer. The antioxidant and anti-inflammatory properties of tea may help protect your skin against sun damage, decreasing your risk of skin cancer.
Breast cancer. In studies, drinking green tea was associated with lower breast cancer risk. Tea can interfere with chemotherapy drugs, so talk to your oncologist.
Tea and coffee offer general benefits in the battle against cancer; whereas Issels' cancer vaccines are formulated to provide specifically targeted cancer-fighting results.