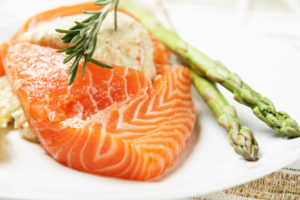 Is there an ideal diet to aid in breast cancer treatment? While there is no 'best diet' for those undergoing treatment, to reduce the risks of treatment and support your body, nutritional science conducted by the University of Hawaii Cancer Center points to ways that modifying diet may help.
Taking a 'Bite' Out of Risks
In terms of breast cancer treatment and prevention, research shows this hormonally-driven disease is strongly affected by obesity. However treatment time is NOT the time for weight loss. Instead, a shift to the development of healthful habits, including a balanced diet that promotes overall health, is ideal.
Foods that Feed the Battle
A diet of fresh veggies, plant-based proteins, and high-fiber foods – foods packed with phytochemicals, antioxidants, flavonoids, isoflavones, and other super-food, cancer-fighting properties – is ideal. Limiting alcohol intake is also advisable, as excessive intake is linked to cancer risk.
What's on the Menu?
– Cruciferous veggies like broccoli, Brussel sprouts, and cauliflower.
– Plant-based proteins, including soy, beans, nuts and seeds.
– Other lean proteins that help boost immunity and retain muscle mass, such as poultry, fish, and eggs.
– High-fiber fruits, veggies, and grains like rice and quinoa that keep appetite (and cholesterol) in check.
Planning for Success
Planning shopping and meals on 'good days' can help make dietary changes and adequate nutrition easier. Form a monthly/weekly meal plan, 'batch cooking' large hearty stews or casseroles that can be easily packed into smaller portions for easy reheating when you're under-the-weather. Aim for 5-6 smaller meals/day.
Looking for the 'magic pill' for breast cancer treatment? Ensure a better outcome with the help of Issels® today.