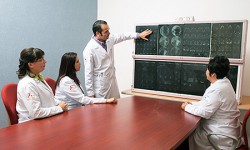 Not all cancers behave the same way or produce identical markers. Some people with the same type of cancer will have higher levels of tumor markers while others with that cancer will not have the elevated levels. At the Issels® Immuno-Oncology Centers, we understand that highly personalized immunotherapy is often the best approach to achieve long-term remission.
What are tumor markers?
These markers are substances that are produced by the actual cancer itself or other healthy cells in the body when cancer is present. They may also occur in response to some noncancerous conditions. For example, a benign tumor may result in tumor markers.
While the most commonly recognized markers are proteins found in the stool, urine, blood, or other tissue sample from the person, changes to DNA and altered gene expression are starting to be used as tumor markers. Currently, there are over 20 unique tumor markers identified and used for the detection, research and treatment of cancer.
Why they are important?
In addition to helping doctors assess the effectiveness of treatment, tumor markers are measured after treatment has ceased to see if the cancer has returned. Tumor markers may one day be useful in detecting cancer while it is still in its early stages. Because there is not one "universal" tumor marker, they sometimes occur in noncancerous conditions, and may vary based on individual factors.
You can read about the latest cancer treatment breakthroughs by following the Issels news blog. Contact Issels® Center for Integrative Immuno-Oncology to learn more about our non-toxic, personalized immunotherapy cancer treatment protocols.