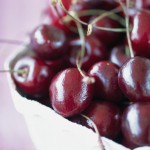 As noted in our previous post, a cancer diagnosis does not exempt you from the aches and pains of daily life. When these occur, many cancer patients prefer to turn to natural solutions. Many foods are known to help alleviate certain aches and pains and carry the additional benefit of boosting the immune system. Always talk to your Issels treatment team before adopting home remedies or adding supplements to your diet.Here are some additional pain-fighting foods and home remedies:
Red grapes are rich in resveratrol which blocks tissue-damaging enzymes and can help ease the back pain associated with cartilage damage. Blueberries, cranberries and red wine are other potent sources of resveratrol and also contain powerful antioxidants that promote a healthy immune system.
Soy protein has the potential to decrease osteoarthritis pain. The isoflavones (plant hormones) in soy have anti-inflammatory properties. A daily dose of 40 grams of soy protein is recommended and patience is required. It can take 2 to 3 weeks to take effect and a significant decrease in pain may not be felt for several months, but the effects can be significant with pain levels dropping by as much as 50%. Soy protein is found in tofu, soy milk and edamame.
Cherries contain high levels of anthocyanins, powerful antioxidants that decrease inflammation and may help ease arthritis pain.
Fish rich in omega 3 fatty acids such as salmon, halibut, snapper and tuna may have a positive effect on chronic pain caused by rheumatoid arthritis, migraines and other autoimmune diseases. For greatest benefit, add fish to your diet 2 or 3 times a week.