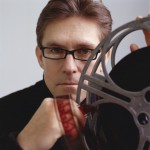 Noted Chicago film critic Roger Ebert lost his battle with cancer yesterday after a long and public fight. For years, Ebert and fellow film critic Gene Siskel shared their passion for movies on PBS' Sneak Preview, achieving cult status with their thumbs-up/thumbs-down review style. Ebert suffered from metastasized thyroid cancer that stole his voice but not his passion for film or life. Only two  days before his death, Roger blogged about the return of his cancer, vowing to continue writing.
Ebert's fight illustrates one of the most frustrating aspects of searching for a cancer cure. It takes time to develop and approve new cancer treatments, time that cancer patients simply do not have. A new collaborative approach to fighting cancer pioneered by the celebrity-driven Stand Up 2 Cancer is changing the cancer research paradigm. (Click here to read Time magazine's interesting article The Conspiracy to End Cancer.)
By creating and heavily funding collaborative dream teams that bring together top experts in cancer research, genetics, medical technology, oncology and pharmaceuticals, Stand Up 2 Cancer is encouraging an integrative approach to cancer research and treatment that may fast-forward the development of a cancer cure. Already partnerships between cancer researchers and Big Pharma have significantly shortened the time it takes to turn new research discoveries into drug treatments ready for clinical trail.
For 60 years Issels Integrative Oncology has fostered a collaborative approach to the treatment of cancer, enjoying remarkable success by applying an integrative approach to the development of new cancer vaccines and immunotherapy treatment protocols. Visit our website to find our more.