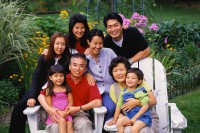 When someone receives a cancer diagnosis, their world turns upside down. The need to evaluate and make treatment choices, the devastating effect standard cancer treatments can have on mind and body, the uncertain outcome of treatment and the impact of the cancer experience on the patient's family can overwhelm all other aspects of the individual's life. As we noted in our previous post, when friends and family want to help, cancer patients appreciate specific offers of aid that make their lives easier or that make life feel more normal for their families.
While help navigating the responsibilities of everyday life is necessary and always appreciated, what many cancer patients say they need most is emotional support from their friends and family members. Making time to listen to your friend with a sympathetic ear, provide a sounding board as your friend struggles to evaluate options and make cancer treatment decisions, doing little things to boost your friend's spirits, and serving as a communications conduit to other friends and family members can be of tremendous help to cancer patients.
Cancer can be an isolating experience. The alternative cancer treatment experts at Issels Medical Center in Santa Barbara, California have found that cancer patients who have supportive friends and family members that are willing to share their cancer journey are best able to cope with the stress and fear that follows cancer diagnosis.
Sign up for Issels' free e-newsletter to stay abreast of new developments in alternative cancer treatments. For more suggestions on how to help a friend with cancer, follow us on Twitter, Google+ and Facebook.