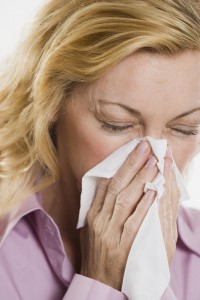 Women that suffer from airborne allergies, including hayfever, appear to be at greater risk of developing blood cancers, according to a study by researchers at Seattle's Fred Hutchinson Cancer Research Center. Curiously, a similar risk was not found among male allergy sufferers, prompting the research team to suspect "a possible gender-specific role in chronic stimulation of the immune system that may lead to the development of hematologic cancers," Science Daily reported.
Allergies and cancer are both linked to dysfunction of the body's immune system. "If your immune system is over-reactive, then you have problems; if it's under-reactive, you're going to have problems," study leader Dr. Mazyar Shadman explained. "Increasing evidence indicates that dysregulation of the immune system, such as you find in allergic and autoimmune disorders, can affect survival of cells in developing tumors."
Over an 8-year time span, the study tracked the health histories of 66,000 adults with no prior history of cancer malignancies other than non-melanoma skin cancer. The relationship between the development of blood cancers and various types of allergies was studied. Women with allergies to plants, grass and trees were found to have the highest risk of developing hematologic cancers. Researchers found study results surprising because men typically have a greater risk of developing blood cancers than women. Additional research is needed, but the chronic strain allergies place on an already weakened immune system may allow cancer the foothold it needs. Following in Issels' footsteps, the American medical community is increasingly recognizing the importance of a strong immune system. Cancer vaccines to boost the immune system may someday become as common as allergy injections.