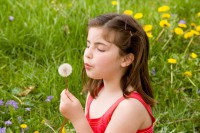 That 11-year-old Sarah Hershberger is cancer-free after undergoing alternative cancer treatments is wonderful news. That Sarah and her family had to flee the country to obtain the treatment that has made her healthy and are being treated like fugitives by their own country is considered by many Americans to be a travesty of justice and a breach of personal liberty.
If Sarah were an adult, her desire to stop the chemotherapy that was making her horribly ill and pursue non-toxic alternative cancer therapies would be respected and considered her decision to make. However, because Sarah was 10 years old when she was diagnosed with leukemia, those decisions were made by her parents.
Perhaps unwilling to look beyond the limited cancer treatment options offered by traditional medicine, the hospital administering the chemotherapy sued to force Sarah to continue treatments they believed would save her life. Unwilling to subject their daughter to more unbearable pain and suffering, Sarah's parents left the comfort and support of their family and Ohio Amish community and fled the country with their daughter to obtain the alternative treatments they were convinced would make her well. Shortly after the family went into hiding the court appointed the hospital's attorney, who is also a nurse, Sarah's legal guardian with the power to direct her cancer treatments. Sarah's parents have appealed the ruling and remain in hiding, although they have reportedly returned to the U.S.
Despite the hospital's warnings, Sarah's grandfather reports that Sarah is doing well and the "treatments are working." He recently told the Associated Press that "blood and imaging tests" show that Sarah is now cancer-free.