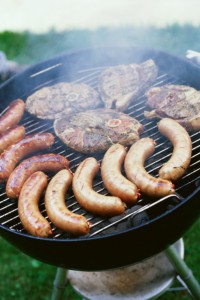 Many people swear by high-protein diets, crediting Atkins, Paleo and other protein-intense diets with helping them drop excess weight and keep it off. But by relying on protein to improve one aspect of their health, protein lovers could be opening themselves to an even greater health risk. New research has linked high-protein diets to increased cancer risk.
This isn't welcome news for meat-loving Americans. Even if you think you're following a healthy diet, you may be eating more protein than you realize. A surprising number of the most popular weight loss diets in the U.S. are high in protein. According to Health Central, protein-rich foods account for nearly a third of the daily menu in the following diets: The Biggest Loser, Atkins, South Beach, Abs and Zone. Even the Weight Watchers Diet, which is considered to be more well-balanced than most diet programs, recommends that protein comprise a quarter of your diet.
Interestingly, the study found that all protein does not carry the same risk. People who get their protein primarily from animal meat and dairy are at greater risk of developing cancer than those who favor plant-based proteins. Additionally, age seems to be a factor in the intensity of the cancer risk. We'll talk about that next time.
Diet is an important part of Issels individualized immunotherapy program for treating cancer. At Issels alternative cancer treatment centers in Tijuana Mexico and Santa Barbara, California, our patients receive education in making healthy diet and lifestyle choices that will allow them to continue strengthening their immune system after they leave our care.
To be continued