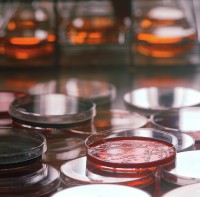 The initials "HIV" are rarely associated with positive health news. In an amazing breakthrough, researchers at Penn Medicine have had success using the HIV virus to treat patients with incurable leukemia.
Dr. Carl June and his team at the University of Pennsylvania Health System have been working on the therapy for 20 years. The key to this treatment is the characteristic of the HIV virus to insert new genes into cells.
The procedure begins with billions of T-cells being removed from a patient's body. A disabled form of HIV is then used to reprogram the T-cells, rendering them capable of recognizing, targeting and killing the cancer. At this point they are returned to the patient's body to perform their mission.
According to Dr. June, once the cancer has been treated these "killer cells" become dormant, returning to action only if the cancer recurs. Out of 12 patients who have received the treatment, nine are in full or partial remission.
One of the successful cases is that of Marshall Jensen, a newlywed and young parent from Utah who was diagnosed with acute lymphoblastic leukemia. So far, Dr. June's treatment has accomplished what nearly three years of traveling the country for various surgeries and procedures could not.
What's next for Dr. June and his team? They hope to be able to adapt this therapy to treat other forms of cancer. Trials on patients with pancreatic cancer are scheduled to begin in the summer of 2015.
Progress continues to be made in the fight against cancer nearly every day. Subscribe to our e-newsletter to get the latest information, including health and nutrition tips, delivered right to your inbox.