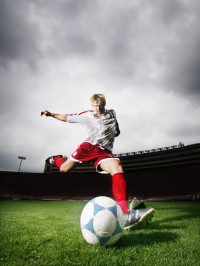 Artificial turf has been a normal part of many types of sports for years, but did you know it might not be safe? There is some speculation that the turf, which is made from synthetic fabrics and old, recycled tires could actually cause cancer. Here at Issels® we're dedicated to exploring such theories and informing you about these types of potential dangers. 
According to the article on the Washington Post website, the rubber crumbs that young athletes are constantly removing from their hair, clothes and face contain benzene, carbon black and lead, which are all cancer-causing materials. This presents a risk for anyone who plays on a rubber crumb field, but it might be even more risky for soccer goalies. 
In 2009, the associate head soccer coach for Washington University, Amy Griffin, was visiting two of her female goalies in the hospital. Both of them had been diagnosed with non-Hodgkins lymphoma. A nurse informed Amy that the number of goalies she had treated recently had risen dramatically. The coach formed a hypothesis regarding the relationship between that particular soccer position and the fields they were playing on. 
For soccer goalies, their bodies are in constant contact with the ground. Not only does that lead to cuts, scrapes and abrasions, but it also means that the rubber crumbs from the turf could be entering their wounds. Her theory is further supported by the fact that blood cancers such as leukemia and lymphoma seem to be the common types of cancer goalies are being diagnosed with. 
Perhaps you or someone you love is battling a cancer diagnosis after having played on artificial turf. Here at Issels®, we have excellent treatment options and we will design a personalized plan that can help you, even if your cancer is advanced. Please contact us today.