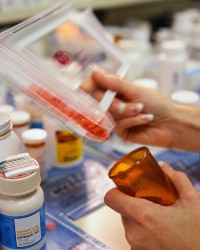 There's so much negative news bombarding TV, newspaper, Internet, and radio, every day, that sometimes it can become overwhelming. On the plus side, when positive cancer news is forthcoming, we don't want to miss it.
A recent conference in Madrid covering new cancer drug information brought exciting news and results to the forefront regarding immunotherapies and the effects on the immune system of cancer patients when combined with approved drugs.
Merck & Co., Bristol-Myers Squibb Co., Roche Holding Ltd. and AstraZeneca each offered data compiled from initial testing. While results were positive from each company, there still exists a concern due to toxicity leading to negative side effects when immunotherapies are combined.
Immunotherapy drugs act on a specific protein known as Programmed Death Receptor 1 or PD-1 or PD-L1. Two of these drugs have received the stamp of approval. One drug, Keytruda from Merck, was approved in the U.S. The other, Opdivo from Bristol-Myers, was approved in Japan but not yet in the U.S.
Clinical date from AstraZeneca's PD-L1 shows promise against lung cancer. Roche shared its results using its immunotherapy drug combined with an additional drug, Avastin, a non-immunotherapy drug used against breast cancer.
While the news is good and results have been positive showing increases in patient responding to treatment ranging from 22 percent to 40 percent, there can be side effects. The lowest result was at 8 percent for colorectal cancer patients.
Safety remains a priority with immunotherapy combinations but each company plans to continue its clinical trials with patients across the board dealing with pancreatic, neck, head, gastric, and ovarian cancer and melanoma.
At the end of the day, it's good news.