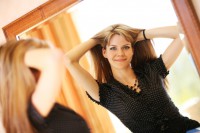 Hair loss frequently affects women undergoing chemotherapy treatment for breast cancer, making them self-conscious at a time when their emotional state is already fragile. That may change with use of the cold cap, a device approved last December by the Food and Drug Administration (FDA) for use at cancer treatment facilities.
The science behind the cold cap
While various forms of cold caps have been sold around the world, the DigniCap is the first one officially cleared by the FDA for use in the United States. The cap is made by Dignitana AB, a medical technology company in Sweden whose slogan is, "Preserving Dignity of Life."
Cold caps work on the principle of scalp cooling, which has been around for decades. The concept involves applying near-freezing temperatures to a patient's scalp, temporarily reducing blood flow and cell metabolism in the area. This makes it difficult for the cancer-fighting drugs to reach and damage hair.
Bringing the DigniCap to the United States
The DigniCap was tested at the University of California at San Francisco and four other medical centers. Out of 122 women tested while undergoing standard chemotherapy for early-stage breast cancer, more than two-thirds of the participants retained more than half of their hair. Dignitana AB plans to lease the DigniCap to cancer treatment centers for use by chemotherapy participants, who would pay a fee for each round.
Treatment at our Issels® immuno-oncology center focuses on your mental and emotional well-being as well as your physical health. Visit our website to learn more about our personalized non-toxic protocols.