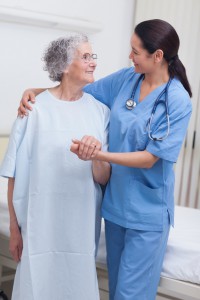 Whether patients undergo traditional or alternative cancer treatments, there may come a time when further care requires a stay in the hospital. Even though the patients are surrounded by doctors, nurses and other healthcare providers, they benefit from continued support from their personal caregivers.
If you are a caregiver for a hospitalized cancer patient, you may feel discouraged or overwhelmed by the turn of events. Here are some tips to help you maintain mental and emotional balance while handling the needs of both you and the patient.
Actively participate in the patient's health care team. As a close friend or family member, you can provide valuable information to assist the medical professionals in deciding on the proper care.
Establish a relationship with the patient's nurses. They are on the front lines of patient care, and they can help you understand treatments and procedures while offering support and information.
Consult with a hospital social worker or case manager. They can help you stay on top of administrative details such as insurance matters, coordination of care between specialists and support resources.
Develop an organized information management system. The patient relies on you to handle tasks like filling prescriptions, scheduling appointments and contacting family and friends. Develop a simple method to keep documents and other necessary information organized and easily accessible.
Alternative cancer treatments at Issels® are available on either an outpatient or inpatient basis. If you or a loved one is dealing with cancer, contact us today for more information about our personalized protocols such as vaccines and immunotherapy for cancer treatment.