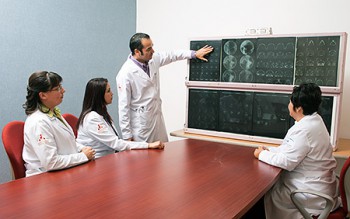 Diagnosing cancer goes far beyond simply confirming its existence. The effectiveness of immunotherapy for cancer and other forms of treatment improves greatly with timely and accurate information from high-tech diagnostic tools.
National Cancer Institute Spearheads Diagnostic Research
The National Cancer Institute (NCI) supports development of sophisticated equipment and testing through its Division of Cancer Treatment and Diagnosis. Ongoing programs maintained by the division include:
Program for the Assessment of Clinical Cancer Tests (PACCT), which aims to break down barriers that hinder accurate diagnostic testing.
Strategic Partnering to Evaluate Cancer Signatures (SPECS), which looks for ways to use data from molecular analyses to improve care and treatment of cancer patients.
Cancer Imaging Program (CIP), which focuses on non-invasive imaging techniques to diagnose cancer along with specific subsets.
Why Diagnostic Procedures are Important
In addition to identifying the presence and extent of cancer, diagnostic tools are useful throughout the course of a patient's treatment. Healthcare teams use them to recognize and classify specific genetic changes, determine the best course of treatment, and monitor patients for recurrence of cancer cells.
Ironically, as the effectiveness of tools and techniques has increased, so has the number of over-diagnosed tumors that are unlikely to have serious consequences. Researchers are also concentrating on ways to more accurately evaluate the data being provided by diagnostics.
Issels® is in the Forefront of Modern Diagnostic and Treatment Techniques
Our Issels® team stays up-to-date on the most advanced diagnostic methods as well as state-of-the-art immunotherapy for cancer treatments. Contact us today to learn how our personally tailored treatment protocols have helped patients with all forms of cancer.