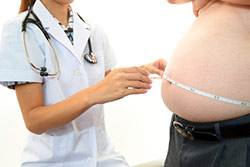 Excess weight has long been recognized as a risk factor for developing cancer. According to a recent study published in the British Journal of Cancer, where body fat is carried can be another indicator of obesity-related cancer risk.
Body Shape Can Increase Cancer Risk
The study, conducted by scientists at the International Agency for Research on Cancer (IARC) of the World Health Organization, were the first to compare adult body measurements in a standardized way. Data was obtained from 43,000 participants, 1,600 of whom had been diagnosed with an obesity-related cancer, and who were observed over an average of 12 years.
Results showed that an additional four inches added to the waistline equated to a 13 percent increase in the risk for obesity-related cancers. More significantly, adding three inches to the hips can boost the risk of bowel cancer by 15 percent.
How Can Obesity Cause Cancer?
Obesity is the second largest preventable cause of cancer behind smoking. Excess body fat alters the level of sex hormones, triggering an increase in production of insulin, ultimately leading to inflammation. All three factors have been linked to an increased risk of cancer.
Dr. Heinz Freisling, lead author of the study, explains that further investigation is needed to explore the connection between cancer and fat carried around the midsection, but results indicate that body shape should be considered along with body mass index (BMI) when evaluating cancer risk.
Non-Toxic, Integrative Cancer Treatment for All Ages at Issels®
Our individually developed cancer treatment programs have been successful with people of all ages and all forms of cancer. Contact us for more information.