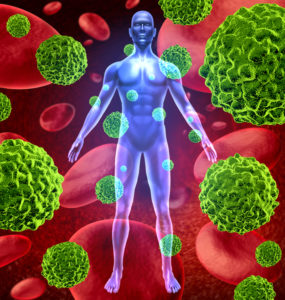 In addition to fighting primary tumors, immunotherapy for cancer aims to prevent future recurrence. Scientists recently made a major breakthrough with the discovery of an indicator of possible relapse in patients with HR-positive breast cancer.
Searching for Clues to Breast Cancer Recurrence
Breast cancer treatment has improved significantly, but unfortunately many women are subject to recurrence five years or more beyond the original diagnosis. The risk is even higher in the case of HR-positive breast cancer, which constitutes more than 50 percent of all breast cancer cases.
A team at Albert Einstein Cancer Center in New York conducted a study of circulating tumor cells, or CTCs, in breast cancer patients. Blood samples came from participants in a previous trial combining a vascular endothelial growth factor called bevacizumab with chemotherapy in post-surgery treatment.
Could a Blood Test Be the Answer?
At the time of the previous trial, none of the participants displayed evidence of recurrence. After a median follow-up period of 1.6 years, the team found nearly 20 times increased risk of recurrence in HR-positive patients who also had a positive CTC assay result. There was no corresponding increase in patients with HR-negative breast cancer.
According to team leader Dr. Joseph A. Sparano, the team was surprised to see that the rate of recurrence was so high. Scientists are now planning to study negative CTC tests to determine if they can serve as negative predictor markers.
Immunotherapy for Cancer Treatment for Advanced Tumors
Thanks to our state-of-the-art immunotherapy for cancer treatments, many patients with Stage 4 breast cancer have been able to achieve long-term remission. Contact us for more information.