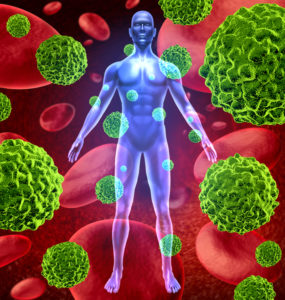 Immunotherapy cancer treatment continues to be a focus for scientists, who are excited about the number of possibilities it holds for patients. A Harvard-based research team recently conducted a study showing how neoantigens can be used to personalize treatment methods.
Neoantigens and the Immune Response
Neoantigens are tumor-specific mutated peptides that the diseased cells present on their surface. These neoantigens stimulate an immune system response by activating dendritic cells (DCs), which in turn initiate an attack on the tumor by T cells.
The challenge became how to integrate different peptides into a form that was readily acceptable to the immune system. David Mooney and his team at Harvard set out to solve the problem with the use of a vaccine delivery system.
The vaccine created by the researchers features tiny mesoporous silica rods (MSRs) coated with polyethyleneimine (PEI), which is a polymer that delivers material to cells. Once the vaccine is injected under the skin, the MSRs spontaneously form a 3-D scaffold to attract and stimulate DCs.
Fighting Recurrence of Tumors
When tested on mice, not only did the vaccine activate anti-tumor responses, it created an immune-specific memory that continued to reject tumor cells for at least six months. According to Mooney, the scaffold structure will allow for greater personalization of cancer treatment as doctors are increasingly able to predict the neoantigens present in individual tumors.
Cancer Treatments Designed for Each Patient
Issels® has long been in the forefront of using personally tailored cancer treatment, including dendritic cell vaccines, to meet a patient's specific needs. Contact us for more information about our non-toxic, integrative treatment programs.