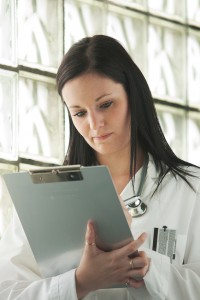 Immunotherapy treatments for cancer provide an alternative to radiation and other traditional forms of treatment, but they can lead to a higher risk of thyroid problems in some patients. A recent study conducted by Dr. Paul G. Walfish and colleagues at Mount Sinai Hospital showed an association between certain immunotherapy approaches to metastatic cancers and a greater risk of painless thyroiditis syndrome.
Thyroid Symptoms to Watch For
Painless thyroiditis syndrome, also known as silent thyroiditis, occurs when your thyroid gland becomes inflamed. It typically causes your thyroid gland to become overactive at first, which is a condition called hyperthyroidism. After a few months, your thyroid can become underactive, leading to hypothyroidism. Thyroiditis is treatable, but it can cause complications when you're undergoing immunotherapy. Catching it early can help reduce this risk.
You might not experience any signs of hyperthyroidism, but it's still important to know what symptoms to watch for. Common symptoms include:
Higher sensitivity to heat
Sudden unexplained weight loss
Irregular heartbeat, palpitations or rapid heartbeat
Nervousness or irritability
If painless thyroiditis syndrome advances to hypothyroidism, you might notice the following:
Higher sensitivity to cold temperatures
Fatigue
Constipation
Joint or muscle soreness
When you're undergoing immunotherapy, one of the most important cancer care tips to follow is watching for any signs of an overactive or underactive thyroid. If you notice any, let your doctor know right away so you can have your thyroid tested and treated promptly if needed. This can help lower the risk of additional complications during your immunotherapy treatments.
For more information on types of immunotherapy for cancer, please contact Issels®. Our medical experts can help you choose the right treatment for your condition.