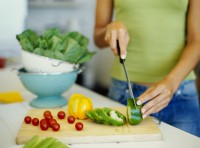 Cancer after care is a vital aspect of ensuring you or a loved one lives a happy, healthy life for years to come. Here are just a few of the best cancer after care tips to help cultivate a long and fulfilling life.
1. Maintain a Healthy Diet
Get into the habit of enjoying a wider variety of fruits, vegetables and other foods rich in vitamins. Selecting low fat alternatives when buying milk or butter can also help reduce weight gain, cholesterol and overall promote better well-being.
2. Stay Active
Along with proper diet, exercising on a regular basis is an excellent way to promote better health during cancer after care. Morning or evening walks, running and bicycling just a few days a week can have a very positive impact on your health.
3. Avoid Alcohol or Tobacco
It is extremely important to avoid tobacco products or alcohol during cancer after care. Any dangerous, potentially habit forming substances can present a major obstacle to living a healthy life following cancer treatment.
4. Visit the Doctor Often
Keeping in touch with your doctor on a regular basis is integral to successful cancer after care. Do not hesitate to discuss concerns, recent changes in health or issues with medication you may be encountering.
5. Keep a Good Attitude
Having a good attitude tends to put everything into perspective, often changing the way we see the world around us. Remaining optimistic will certainly improve health, alleviate stress and promote better cancer after care.
If you would like to learn more about alternative cancer treatments and today's best cancer after care programs, Contact Issels® today about any questions you may have on if the Issels Treatment® may be right for you.