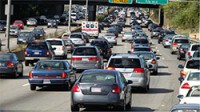 Perhaps you've just received a cancer diagnosis, and you can't help but wonder if getting cancer treatment close to home is really the best choice for you. If that sounds familiar, you're not alone. Many of the patients we serve here at Issels® will tell you that they understand how you feel. The fact is that this is a decision that only you can make. Still, we would like to offer you some information that will help you make the choice that's right for you.
Treatment Options
The fact is that many oncologists and cancer centers depend on traditional treatment methods when they treat cancer patients. You'll probably hear words like surgery, chemotherapy and radiation, because these treatment options are the most popular ones being used. Even so, coming to a treatment center like Issels® gives you many more options that just aren't available everywhere. Cancer vaccines and immunotherapy are just two of the treatments we offer, but your treatment plan will be tailored according to your needs.
Excellent Results
It's also a good idea to choose a treatment center that has a good reputation for excellent results and remission rates. Remission rates are a good indicator of what you can expect for your cancer treatment, although not all results are typical for every patient's case.
No matter where you decide to have your cancer treatments, at Issels®, we want you to know that we're there for you. Our caring staff of professionals is willing to work with you to determine a treatment plan that will work best for you. If you'd like more information about how we can help you, please contact us today.