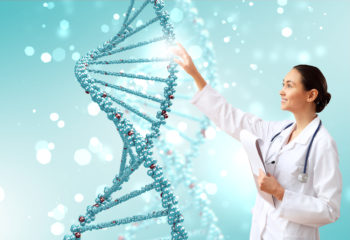 As science makes connections between DNA mutations and cancer, gene-targeted therapies have become a valuable way to make cancer treatment more effective. Now researchers are pondering how advanced genome editing technology might impact the future of cancer research and treatment.
Solving the Puzzle of DNA
All biological lifeforms are composed of three primary substances. DNA, the building block of genes, uses RNA as a messenger to control proteins, which are the cellular "worker bees." RNA and proteins can be targeted with drugs, medicines and other treatments, but DNA is more complicated.
CRISPR is a process that lets scientists actually manipulate and make changes to genetic material in cells. In theory, CRISPR could be used to "edit" diseases such as cancer right out of patients.
Can Genetic Editing Improve Cancer Treatment?
Finding the precise genes that drive cancer development can be like looking for a needle in a haystack. With the help of CRISPR, researchers can replace normal genes with cancer-causing ones to get a better picture of how the mutations work and thereby create more effective treatment solutions.
According to Dr. Irene Chong, a clinical scientist at the Institute of Cancer Research in London, the precision of CRISPR holds possible ramifications for future cancer treatment. Doctors may eventually be able to target and correct genetic mutations that cause a predisposition to cancer.
Gene-Targeted Therapies at Issels®
Issels® has long been a leader in the use of gene-targeted therapies that reduce the risk to healthy cells often found in traditional cancer treatments such as chemotherapy. Contact us for more information about cancer vaccines, NK cells and other state-of-the-art treatments at Issels®.