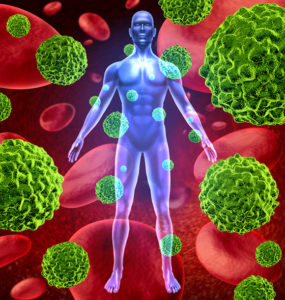 "Everything in moderation" is often cited as the key to balance in life, but scientists are taking a different approach in a new form of cancer treatment. According to the results of a recent study, driving up levels of oxidative stress can be fatal to cancer cells.
Reprogramming the Metabolism of Cancer Cells
Reactive oxygen species (ROS) such as peroxide and superoxide are natural byproducts of the metabolism of oxygen, and they play a role in certain cell functions. But while high levels of ROS can kill normal cells and damage DNA, energy-hungry cancer cells consume greater quantities of ROS.
In a study published in Cell Metabolism, a research team at Augusta University examined the effects of adaptive T cell therapy on the metabolism of cancer cells. Testing was conducted on mice with large colorectal tumors.
When Oxidative Stress Becomes Fatal
Adoptive T cell therapy followed treatment with a chemotherapy drug that boosted the activity of the infused T cells. Nearly all the mice experienced complete tumor regression as an apparent result of two factors:
– Treatment interfered with production of an antioxidant called glutathione, causing ROS levels to rise.
– T cells increased production of proinflammatory cytokines, chief among them tumor necrosis factor alpha, making cancer cells even more vulnerable to oxidative stress.
Dr. Gang Zhou, author of the study, expressed hope that these findings will help improve immunotherapy treatments by making it easier for T cells to target tumors.
Personalized Cancer Treatment at Issels®
Our comprehensive cancer treatment programs incorporate therapies that best address a patient's individual needs. Contact us to learn more.