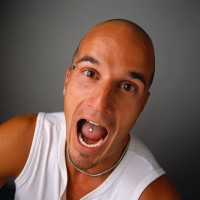 Going bald is a fact of life for some men. There are many who dread looking in the mirror in the morning to find that they've lost more hair, while others embrace their hair loss by shaving their heads at the first sign of thinning. The truth is that being bald isn't as big a deal as it was even just a few years go. Although a new study indicates that middle-aged balding might be an indicator for prostate cancer.
The study observed men who were approaching the age of forty-five and came to the conclusion that if they were going bald, they had about a thirty-nine percent increased risk for cancer than men who had all of their hair at that age. It was speculated that this could be because a dip in testosterone resulted in prostate cancer.
However, are these findings accurate enough to cause men to be concerned if they exhibit male pattern baldness?
Physicians say it's highly unlikely. The study lacks the information that's needed to support its findings. The best plan of action for any man who is approaching middle age is to visit the doctor on a regular basis and get screened for prostate cancer. Even though baldness might end up being a factor in a cancer diagnosis, the fact is that most cancer patients got the disease because of their genetics or because of a lifestyle choice.
Your family history is a strong indicator of whether or not you're at risk for developing any type of cancer. If you are diagnosed with prostate cancer or any type of cancer, here at Issels®, we understand cancer treatments and patients in a way that's different from other cancer centers. We've successfully been treating patients for sixty years, and we can help you too. Contact us.