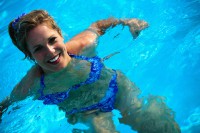 Cancer survivors that work with their cancer treatment team to create a plan for maintaining good health after cancer are most likely to thrive (see our previous post). Working with your Issels Integrative Oncology team to create a long-range lifestyle plan that addresses your physical, mental and nutritional health may both help your enjoy life to its fullest and prevent cancer recurrence.
Today we continue our suggestions for creating a cancer survivor's manual:
The basic tenets of living a healthy lifestyle should form the core of a cancer survival plan. Discuss an appropriate exercise plan with your doctor and exercise regularly. Start slow, increasing exercise every 2 to 3 weeks as your strength returns. A good goal for most people is 20 minutes of cardio exercise (walking, swimming, etc.) and 30 minutes of resistance training 3 to 5 days a week.
With your medical team, develop a nutrition plan based on an anti-inflammatory diet that boosts your immune system. Many cancer survivor diet plans follow a basic Mediterranean diet which features plenty of antioxidant-rich fresh fruits and vegetables, fish high in omega-3s, nuts, beans, whole grains, lean meat and healthy oils. Maintaining a healthy diet can also help you lose weight, further decreasing your risk of cancer return.
Add stress-reduction activities to your daily routine. Learn relaxation techniques such as mindful meditation or progressive muscle relaxation to help keep stress under control. Many cancer survivors find the support and encouragement they need in cancer support groups. Some cancer centers offer after-care programs for cancer survivors to help monitor health and help cancer survivors stay on track.