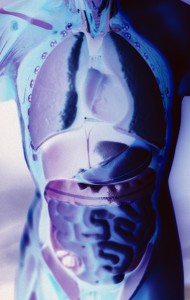 If you answered breast cancer, you are not alone; but you would be wrong. Most women are surprised to find out that lung cancer is the deadliest type of cancer for women. Lung cancer accounts for nearly 40% of all cancer deaths among women, compared to 22% for breast cancer and 13% for colorectal cancer, the third leading cause of cancer death among women, according to the U.S. Centers for Disease Control and Prevention.
Perhaps because breast cancer receives so much press and is so obviously linked to women, many people assume that breast cancer poses women's greatest cancer fatality risk. However, while it is the most common "female" cancer, breast cancer is only the second leading cause of cancer death among women and is one of the more treatable forms of cancer. (Among women of Hispanic heritage, breast cancer is the No. 1 cancer killer with lung cancer running a close second.) Particularly when discovered early, breast cancer frequently offers a high rate of successful long-term remission. As Issels treatment cases indicate, even when discovered late, integrated immunotherapy has helped many breast cancer patients achieve long-term remission.
November is Lung Cancer Awareness Month, an excellent opportunity to discuss risk factors and treatment options for the cancer that causes more deaths among women than breast, uterine and ovarian cancer combined! While smoking is the primary cause of lung cancer, the disease also strikes many women who have never smoked. As it has for women with breast cancer, Issels personalized immunotherapy has also helped numerous lung cancer patients achieve successful remission.