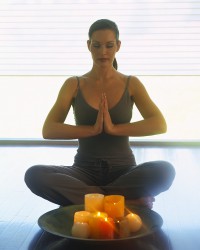 When living with cancer you may find yourself too preoccupied to take part in activities you normally enjoy. It's important to focus on taking time for yourself and improving your quality of life. Even small pleasures can make a big difference in maintaining a positive mental attitude.
Defining quality of life is highly personal. Only you can say what factors go into your ideal blueprint for living. Are you a social butterfly who loves spending time with family and friends? Maybe you're more of a homebody who enjoys curling up with a good book.
No matter where your bliss lies, taking care of your emotional and physical well-being boosts your quality of life. Here are some helpful ideas that can be easily incorporated into your schedule.
Stress can greatly impact your health. Find a method that helps you relax and free your mind. Meditation is particularly effective because it teaches you to live in the present rather than deal with regrets of the past or fears of the future.
Keep your energy level up by including some moderate exercise in your daily routine. Walking and bike riding are fun activities that won't even feel like a workout.
Challenge yourself to become educated about nutrition and try out what you learn in the kitchen. The Internet makes it easier than ever to find healthy, simple-to-prepare recipes. Take some cooking classes at a local community center and make some new friends along the way.
No one else's story is the same as yours. Write it however you choose and continue finding joy in every day of the journey