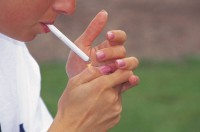 Perhaps you're feeling overwhelmed and you're struggling to learn all you can about your lung cancer diagnosis. There is a great deal of information available online, however, we would like to offer you five facts you should know about lung cancer.
Fact #1: Smoking isn't the only cause of lung cancer
While it's true that smoking causes around 87% of all cases, it's not the only cause. Lung cancer occurs when the cells in the lungs mutate, and this is often caused by breathing in toxic chemicals, but it can also be due to genetics.
Fact #2: Lung cancer symptoms usually do not appear until the cancer has spread
Early cases of lung cancer generally produce no symptoms, which is why it can sometimes take years for doctors to find the cancer.
Fact #3: Researchers are working to find ways to diagnose lung cancer early on
Lung cancer is most successfully treated when it's found early. Researchers are looking for more ways to perform early diagnostic tests. Lose dose CT scans might be one option.
Fact #4: There are many different types of lung cancer
Small cell and non-small cell are both types of lung cancer, but there are many more variables involved that will help your doctor decide which lung cancer treatment is right for you.
Fact #5: There are many effective alternative lung cancer treatments available
Chemo and radiation are no longer your only options. Alternative treatments are getting great results.
If you would like more information about Issels, we would love to talk with you and answer any questions you might have about available lung cancer treatment options. Please contact us today.