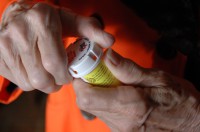 Two new studies appear to have decided the debate over whether there is a causal link between cancer and menopause hormone therapy. The answer is YES.
Menopause Drug Linked to Cancer
In recent cancer news, a Canadian Cancer Society report concludes that a popular estrogen-based menopause drug has caused breast cancer in thousands of Canadian women.
As reported in The Star, the report states: "The body of evidence to date overwhelmingly points to a causal connection between the use of Premplus and the development of invasive breast cancer in women."
The report has sparked a Canadian class-action lawsuit against the drug's manufacturer, Wyeth Canada. Owned by U.S. pharmaceutical giant Pfizer, Wyeth has denied that Premplus causes breast cancer, stating that the medication is "safe and effective when used as directed." A Vancouver court will hear the lawsuit in October.
HRT Doubles Cancer Risk
In corroborating cancer news, a large federal study in the U.S. has found that menopause hormone replacement therapy (HRT) medications double breast cancer risk when taken for five years. In women taking estrogen and progestin pills, cancer risk increased in just two years.
However, halting hormone replacement therapy returned cancer risk levels to normal in about two years. Given study findings, researchers believe breast cancer risk would not increase for most women if hormone replacement therapy was stopped within three years.
"It's an excellent message for women: You can still diminish risk (by quitting), even if you've been on hormones for a long time," Dr. Claudine Isaacs of Georgetown University told The Star.
Issels integrative immunotherapy offers personalized non-toxic treatments for breast and other cancers. Contact us for information about integrative oncology.