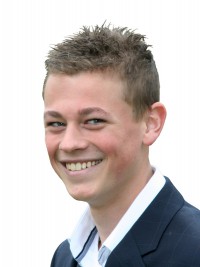 A Lancaster, Pennsylvania teen is all smiles these days. Marissa Witmer, a sophomore at Solanco High School, has been selected one of 12 teen semi-finalists in the National Academy Medical School Scholarship Challenge to find a cure for cancer. (Click to watch the WGAL News report.) The teen with the winning idea will receive a $185,000 scholarship to the medical school of their choice.
"I have been motivated to find an alternative treatment for breast cancer," Marissa said. "All the women in my family have had some sort of cancer, so it's like my mom and I are kind of next, and it would be kind of nice to figure something out before that happens."
Traditional cancer treatments attack cancer cells from the outside, pummeling them with chemotherapy or radiation or removing them surgically. While current research has brought the cancer fight down to the cellular level, most new treatments seem to be focused on changing cancer cell behavior by manipulating external cell triggers.
Mining Cancer DNA
Marissa's proposal would attack cancer cells internally, literally ripping their guts out. The teen wants to develop an alternative cancer treatment that would pull the DNA out of cancer cells, either killing them immediately or at least rending them harmless.
DNA manipulation of cells is already a laboratory reality so there's every reason to believe that when Marissa is ready to enter medical school in seven years she'll have the opportunity to make her dreams come true!
Issels Integrative Oncology has been a leader in the fields of integrative immunotherapy and alternative cancer treatment for more than 60 years. Visit our website to find out more about us.