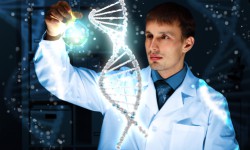 One of the biggest challenges facing surgeons operating on cancer patients is making sure the entire tumor is removed. Thanks to recent cancer research at Oregon State University (OSU) in Corvallis, advancements in phototherapy could lead to major improvements in surgery and treatment.
Phototherapy is a field holding promise as a valuable adjunct to current primary cancer treatments of surgery, chemotherapy and radiation. Its unique nature can help surmount the hurdles presented by forms of cancer that have developed a resistance to drug therapy.
The study at OSU involved a single-agent system using silicon napthalocyanine, a substance considered to be "theranostic" because it has both therapeutic and diagnostic applications. The compound causes cancer cells to glow under near-infrared light, allowing a surgeon to have a clearer view of the tumor. In addition, the heat generated by the substance kills any remaining cancer cells.
Associate professor Olena Taratula, lead author of the study, compared the system to "an extra pair of eyes" assisting a surgeon. Other benefits include its relatively low cost as well as biodegradability and ease of reproduction.
Tests were performed on laboratory animals suffering from ovarian cancers. After treatment, the tumors were eliminated without any side effects and never returned. Continuing cancer research will be performed on dogs with cancerous tumors, with an eventual goal of progressing to trials with human cancer patients.
If your cancer has not responded to standard treatments, even new tactics, our non-toxic immunotherapy programs at Issels® may be the answer. Our protocols incorporate innovative, state-of-the-art methods for personalized treatment with fewer side effects. Visit our website to learn more about these immune boosting treatments and read real-life testimonials from our patients.