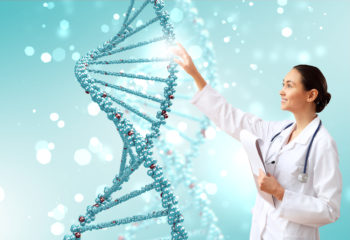 What if you could check your cancer risk in the comfort of your own home? One popular DNA testing company recently won approval to offer the first consumer test for genetic mutations linked to breast cancer.
In-Home DNA Screening
At a cost of $199, 23andMe's DNA test is considerably less expensive than testing in a medical office, which can run into thousands of dollars. Existing customers of 23andMe are expected to have access to the test within the next few weeks.
BRCA gene mutations have been linked to a higher risk of developing breast cancer. While there are more than one thousand known mutations, the DNA test from 23andMe screens for three specific mutations that are found primarily in people of Ashkenazi Jewish descent.
It's estimated that one in 40 Ashkenazi Jews has one of the mutations, which results in a 45 to 85 percent chance of women developing breast cancer by the age of 70 as well as a higher risk of ovarian cancer. Men can also carry one of the mutations along with a risk of breast cancer.
How Effective Is Consumer Genetic Testing?
Geneticist Eric Topol of the Scripps Institute cautions that 23andMe's test is a start, but testing needs to be more comprehensive. Topol adds that, since the test is limited to three mutations, people may get a false sense of security when they are actually carrying other mutations outside the scope of the test.
Cancer Immunotherapy for Advanced Breast Cancer
Patients with advanced forms of breast cancer and other tumors have achieved long-term remission with cancer immunotherapy treatments at Issels®. Contact us for more information.