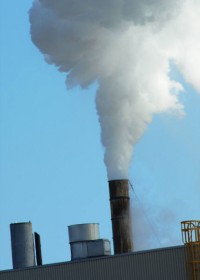 Air pollution in China has reached alarming levels. Recent near-zero visibility in Beijing forced China to issue a red alert that curtailed vehicle use and shut down factories, according to a CNN report. Not surprisingly, Beijing officials have reported a more than 63% rise in lung cancer over the past decade, according to Medical Daily. While cigarette smoking certainly plays a role, experts say chronic air pollution is becoming a major risk factor for lung cancer and a likely cause of increasing lung cancer rates among non-smokers. Lung cancer is now the No. 1 cancer killer in China.
"There are lots of carcinogens emitted with industrial pollution," C. Arden Pope of Brigham Young University told National Geographic. "Our respiratory systems filter out the relatively large particles from air pollution … The tiny ones come nearly entirely from burning things – coal, gasoline and diesel. Those tiny combustion particles are small enough to penetrate the lungs, and they're made up of all sorts of nasty particles."
Following 9/11, clouds of airborne particulate were blamed for the sharp spike in cancer cases, including lung cancer, among first responders and people who lived or worked near the site of the World Trade Towers.
Interestingly, airborne pollution from cigarette smoke or industrial pollutants doesn't pose the only lung cancer risk. High levels of arsenic in drinking water are a major risk factor for a form of lung cancer that appears to be linked to the tumor microenvironment. Issels' non-toxic cancer vaccines are unique in that they attack not only the cancer tumor but the surrounding tumor microenvironment. Visit our website for more information.