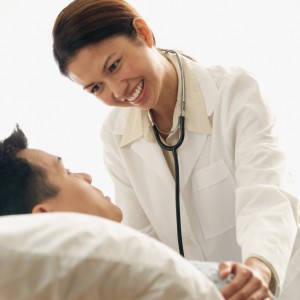 A British company has developed a way to harness the body's T cells to fight cancer. An integral part of our body's immune system, T cells are like a standing army waiting for battle orders. When pathogens invade, the body sends these specialized white blood cells to search for and destroy invading cells. However, T cells haven't been as good at targeting cancer cells as they are at targeting other pathogens. Immunocore may have solved that problem.
Immunocore has engineered T cell receptor proteins to recognize and bind to specific cancer-causing peptides in cancer cells, killing the diseased cells without harming healthy cells. (Click to view How It Works in The Independent.)
"Immunotherapy is radically different," Bent Jakobsen, Immunocore's chief science officer told The Independent. "It doesn't do away with the other cancer treatments by any means, but it adds something to the arsenal that has one unique feature — it may have the potency to actually cure cancer."
Unlike chemotherapy and radiation treatments which have a destructive impact on the body, immunotherapy works with the body, harnessing the immune system to protect against and kill cancer cells. Led by recent cutting-edge advancements in gene- and cell-driven cancer therapies, immunotherapy represents a sea change in the traditional approach to cancer treatment that, interestingly, brings it into alignment with Issels' alternative cancer therapies.
Issels Integrative Oncology has been a worldwide leader in integrative immunotherapy and science-based alternative cancer treatments for more than 60 years. Visit our website to hear what Issels' patients have to say about our enviable history of complete long-term cancer remissions, including advanced-stage and standard therapy-resistant cancers.