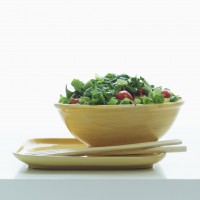 Every time you pick up a magazine or tune in a talk show it seems like there's some new diet trend your should be following to reduce your risk of developing cancer. Drink more coffee. Fill your plate with fresh fruits and vegetables. Sip green tea. Avoid grilled meats. Eat more fish. Have a glass of red wine with dinner. Nibble on dark chocolate. The list of cancer nutrition tips goes on and on.
Confusing Diet Advice
The list of healthy eating tips for preventing cancer seems to get longer every year. Trying to keep up with the types and quantities of food you should eat to keep various types of cancer at bay can be confusing and may seem contradictory. (Which is better, tea or coffee?) While eating to prevent cancer is a worthy goal, what should you eat to stay as healthy as possible if you already have cancer?
Diet Linked to Cancer
Researchers have found a strong link between diet and cancer that makes paying attention to what you eat important. In addition to maintaining a healthy weight and exercising regularly, eating a Mediterranean-style diet is generally recommended not only to help prevent cancer; but also to increase survival rates for people with cancer.
The Mediterranean Diet
Because certain foods can interfere with cancer treatments and medications, you should always follow the dietary recommendations of your cancer team. That said, the Mediterranean diet (click for diet details) benefits cancer patients by boosting the body's immune system, aiding your natural ability to fight the recurrence or spread of cancer.
Contact Issels Integrative Oncology for more information about cancer treatment and recovery and diet.