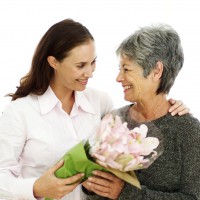 It is rewarding but challenging to be a cancer caregiver. Use our tips to meet the challenge successfully:
1. Try to stay positive. Focus on positive and hopeful thoughts and try to keep your sense of humor. While this may be easier said than done, maintaining a positive attitude can help you and the patient cope with cancer's ups and downs. Find friends, family, clergy and counselors you can turn to when you need an emotional boost.
2. Take care of yourself. Being a cancer caregiver can be physically and emotionally exhausting. In order to care for someone else, you must first take care of yourself. To stay healthy and reduce stress, try to get some exercise every day, eat well-balanced meals and get 7 to 9 hours of sleep every night. If you are a full-time caregiver, enlist the aid of family and friends so you can take periodic breaks to relax and recharge.
3. Ask for help. Don't go it alone. Create a support system of people you can talk to about your concerns and feelings. Many caregivers find it helpful to share experiences and encouragement with other caregivers through online cancer caregiver support groups. Invite friends and family members to be part of the caregiving team and ask them to help out with specific tasks such as grocery shopping, driving to doctor visits, taking children to activities, visiting with the patient, dropping off a meal, etc. It can be helpful to keep a go-to list of people who have volunteered to help and the tasks they are able to help with to forestall last-minute emergencies.