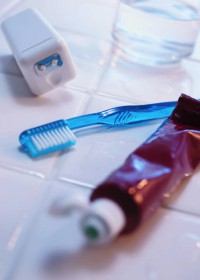 Having a fresh breath is an excellent feeling, but finding out your gum disease-fighting toothpaste may cause cancer is frightening. Read on, about one of the top toothpaste brands that may make you take a second look at your toothpaste.
Colgate Total is an extremely popular toothpaste brand in America. However, very few users know this toothpaste uses a chemical known as Triclosan, that has antibacterial properties that help fight gum disease. It now turns out Triclosan is linked to growth of cancerous cells and problems with development in animals. In fact, this has prompted regulators to take a second look at this chemical and determine whether it is safe to add this chemical into soaps and cutting-boards.
Toothpaste-and-Risk-of-Cancer
Colgate-Total is one of the most popular toothpaste brands in the country. While Colgate Palmolive Co. got the U.S. FDA approval in 1997 to market this antibacterial toothpaste as OTC drug, the toxicology report submitted by the company to the FDA was not made public until 2014.
Our website found the report contained information pertaining to malformation of bones in rats and mice. While Colgate claims the toothpaste is completely safe, scientists who reviewed the report reckon Triclosan disrupts the endocrine system, thereby adversely affecting the functioning of hormones.
Colgate Total has been in the market for 18 years, but there has been no report adverse side effect, according to a Colgate spokesperson. Our cancer news team believes if animal studies show risk then the human population also is at a high risk. So, what does using Colgate Total mean to those millions of people who are trying to keep gum disease and plaque at bay?
To keep up-to-date with more cancer news, make sure to visit our blog regularly.