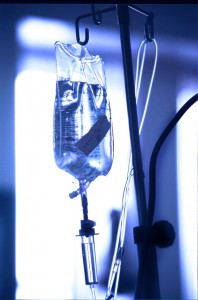 When you go through cancer treatments, you're not alone. Here are some great suggestions to help weather chemotherapy:
Know how to manage the nausea. Feeling ill and vomiting are the worst parts of chemotherapy for most people. Spread out your eating across many small meals instead of three regular meals, avoid beverages during mealtimes, and eat slowly.
Try out meditation and emotional exercises. Being in control of your emotions can help when side effects hit. Don't be afraid to address your emotional hurdles through meditation, talk therapy, and alternative medicines.
Be prepared to try new foods. Many people undergoing chemo feel like foods taste different, even common and favorite foods. If what you eat tastes odd or foul, branch out and try lots of things—even foods you typically dislike—and find what works.
Stick with healthy foods to feel your best. Cupcakes may be tempting, but most people do best when avoiding junk foods, sweets, fatty foods, and fried foods. These treats should remain treats, while a generally healthy diet will keep you feeling best.
Get some hats, including one with a wide brim. Before chemotherapy, you may wish to shave your head and get a wig. Find some hats, too, including warm and comfy ones for when you feel chilly and a wide-brimmed hat to help with sun protection.
See the dentist first. Teeth cleanings are a bad idea during chemotherapy, so see the dentist a few weeks beforehand and use saltwater rinses to gently help with sores.
We're also here to help with individualized, holistic treatments. Talk to us if you're interested in learning about alternative cancer treatment options.