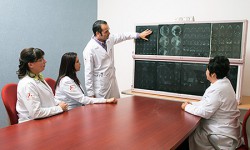 At Issels®, our programs have focused on our patients for over 60 years. This includes providing patients with support and information along with the most current natural cancer treatments.
A recent report in The Guardian news in the UK notes that "17 percent of women diagnosed with breast cancer waited for over a month to see a GP." Even when the patients recognized symptoms, they chose to wait. Another worrisome poll by YouGov concerning breast cancer care states "one in 20 women wait more than six months" to see a doctor which decreases the opportunity to provide effective treatment at the earliest stages of their cancer.
Many of the women who prolonged visiting their GP convinced themselves the symptoms they exhibited were not serious. A significant number admitted they were too scared to schedule a doctor visit because they were afraid their fears would be validated.
Unfortunately, ignoring the symptoms of breast cancer, whether because of fear or denial, does nothing to tackle the cancer cells. Not seeing a doctor to get a proper diagnosis only allows the cancer cells to multiply.
Early diagnosis is the key to getting a jump start on the disease and patients are strongly urged to schedule an appointment, as soon as possible, whenever one or  more of cancer symptoms are present.
At our centers, patients receive immunotherapy along with other types of treatment and care with the use of non-toxic medications. Our goal is providing treatment and helping patients navigate through each step. For this to happen, it's important to follow through with doctor visits.
If you have questions about breast cancer and need information about our programs, please contact our center.