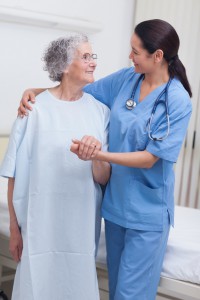 Despite significant improvements in cancer treatment, such as the development of immuno-oncology, patients often have a knee-jerk reaction to a cancer diagnosis. This may be particularly true for women, who are mindfully watching the efforts to increase public awareness of breast cancer. They may feel that there are mixed messages in the news in regards to the appropriate treatment for their breast cancer.
Some women, along with their physicians, have begun taking a path that may seem counterintuitive. They are choosing to defer traditional treatments, such as chemotherapy and lumpectomy, in favor of a course often referred to as "watchful waiting."
What is watchful waiting?
Desiree Basila, a 60 year-old woman diagnosed with DCIS or stage 0 breast cancer, participated in a clinical trial that exemplifies watchful waiting. She began taking tamoxifen, a drug that blocks estrogen, which can often cause tumors to grow. In addition, she visited her doctor twice a year for checkups that alternated between mammograms and MRIs.
The reasons behind watchful waiting
Studies show that women with DCIS have a mortality rate of three percent regardless of their form of treatment, which corresponds to the average for the general population.
Each case of breast cancer is unique based on a woman's biological profile, meaning treatment should be determined on an individual basis rather than using a cookie-cutter approach.
Mastectomy, radiation and other aggressive treatments sometimes cause seriously harmful side effects that may have been avoided with a more moderate approach.
Assessment of a patient's individual lifestyle, genetic profile and personal needs has always been a part of our immuno-oncology protocols at Issels®. Visit our website to learn more about our innovative and non-toxic cancer treatment programs.