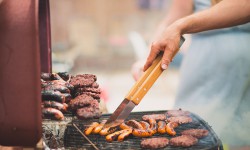 Your 10-year-old may object to the omission of candy and pizza from the U.S. government's eating guidelines. The revised version, issued this past January, has gained more influential critics who believe the guidelines don't go far enough to discourage consumption of foods linked to cancer.
Is there a place for red meat in a healthy diet?
Katie McMahon of the American Cancer Society Cancer Action Network is one of the experts questioning the new guidelines, particularly the failure to recommend limiting red meats. Decades of research clearly indicates a link to development of cancer, which is one reason integrative immunotherapy considers lifestyle factors along with the disease itself.
Are industry lobbyists to blame?
The Health and Human Services Department and U.S. Department of Agriculture are the government agencies responsible for creating the guidelines. Lately they have come under fire from accusations of succumbing to pressure from meat industry lobbyists.
Dr. Walter Willett, head of the nutrition department at Harvard School of Public Health, is among those speaking out. He points out that consumption of red meat, even when it's lean, has been shown to increase risk of diabetes and cardiovascular disease as well as certain types of cancer.
Health and Human Services Secretary Sylvia Burwell dismisses charges of catering to special interest groups. Alice Lichtenstein, a nutrition professor from Tufts University who was a member of the advisory committee, claims the guidelines were focused more on preventing chronic diseases such as diabetes than on cancer.
The integrative immunotherapy programs at Issels® address nutrition and other lifestyle factors. Visit our website for more information about our state-of-the-art non-toxic treatments.