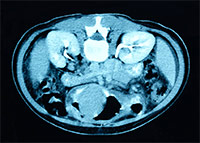 Have you recently noticed people sporting orange pins, t-shirts or bracelets? These colorful accessories demonstrate support of National Kidney Cancer Awareness Month, which occurs each March. While more than 50,000 new cases of kidney cancer were diagnosed last year, cutting-edge treatments such as cancer immunotherapy have made valuable inroads in defeating the disease.
Causes and symptoms of kidney cancer
Research has found that certain genetic factors, such as the hereditary disorders von-Hippel-Lindau disease and Birt Hogg Dube Syndrome, can increase the risk of kidney cancer. Scientists have managed to isolate the gene that carries VHL disease, which could lead to advancements in diagnosis and treatment.
Symptoms of kidney cancer often don't present in the early stages of the disease, so it's frequently discovered during testing for other conditions. Painless urination of blood is the most common symptom, occurring in more than 50 percent of patients.
Other symptoms include back pain, the appearance of an abdominal mass, or unexplained weight loss. Unfortunately, many of the symptoms are also characteristic of unrelated health conditions, complicating the matter of diagnosis.
What does the future hold?
Improvements in diagnosis and treatment have resulted in more than 200,000 kidney cancer survivors living in the U.S. today. Researchers continue to develop more sophisticated drugs for treatment, while specialized testing like PET scans are being evaluated as more effective means of diagnosis.
State-of-the-art cancer immunotherapy treatments at Issels® are tailored to meet each patient's individual case. Visit our website for testimonials from survivors of kidney cancer, leukemia, melanoma and other forms of the disease.