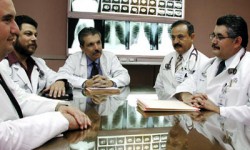 February 4, 2016 marked the annual observance of World Cancer Day, an event that originated in 2000 during the first World Summit against Cancer. Professor Colin Goding, a cancer researcher at Oxford University, took the opportunity to sit down for an interview about the current and future state of cancer treatment.
How researchers study cancer
According to Dr. Goding, the cellular events leading to the development of cancer are relatively complicated. Our bodies have systems to block mutated cells that lead to tumors, so those systems need to break down, allowing the mutations to take hold while accelerator cells push growth into overdrive.
Melanoma, or skin cancer, is one of the more common forms of the disease. It begins in the cells that manufacture melanin, which is a pigment controlling skin, eye and hair color. Dr. Goding cited melanoma as a good model for researchers to follow all stages of development, as opposed to forms like lung cancer that have already progressed by the time symptoms present.
Where does treatment go from here?
Dr. Goding sees the most promise for the future in two methods that are used in our immuno-oncology center. One is the ongoing development of drugs that reactivate the body's immune system to attack cancer cells. The other is a focus on changing the micro-environment, which consists of the elements involved in the growth or regression of tumors.
Our Issels® immuno-oncology centers have been ahead of the curve in the use of non-toxic therapies that stimulate the immune system and target a tumor's micro-environment. Visit our website to learn more about our personalized treatment protocols.