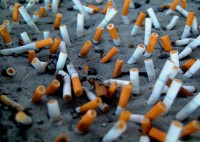 Thanks to wide-spread education about the dangers of tobacco use, smoking is at an all-time low in the United States. Despite this, tobacco is still linked to 40 percent of all cancer diagnoses, and these cases are not limited to just lung cancer.
Tobacco Use Continues to Be a High Risk Factor for Cancer
Disturbing information was reported in a recent article from the Centers for Disease Control and Prevention. Tom Frieden, director of the CDC, stated that nearly half of the country's 36 million smokers could die from tobacco-related diseases.
Of those 18 million potential fatalities, one-third is projected to come from cancer. Smoking is generally connected with lung cancer, but tobacco use is also tied to cancer in the throat, liver, pancreas, stomach, and eight other parts of the body.
Good News about Tobacco Use
A separate report issued by the CDC detailed the progress that's been made in reducing cigarette smoking. In the 10-year period between 2005 and 2015, smoking among adults dropped from 45.1 million to 36.5 million for a change of more than five percentage points.
Reduction in tobacco use has not occurred across the board. Males, especially African-Americans, still account for a high proportion of smokers, while groups such as the low-income and less-educated have the highest smoking rates.
Cancer Treatment Is Not One-Size-Fits-All
Each cancer diagnosis arises from a unique combination of factors that can include lifestyle choices, such as smoking along with heredity and environment. Our immunotherapy for cancer treatments are designed to meet the specific needs of your case. Contact us to learn why Issels® is the leader in state-of-the-art immunotherapy for cancer.