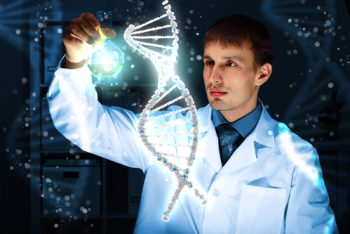 As scientists learn more about how cancer cells operate, they use that knowledge to formulate more effective methods of cancer immunotherapy. For this reason, the National Institute of Health (NIH) considers genomics research to be a critical tool in the fight against cancer.
Why Genomics Research?
The National Cancer Institute (NCI) is the arm of the NIH devoted to cancer research and training. In 2012, the NCI founded the Center for Cancer Genomics (CCG) for the purpose of studying the role of altered genes in the development of cancer.
Cancer results from abnormal cell growth within the body. Genomics research helps scientists understand more about these abnormalities and how they drive cancer development, leading to more precise methods of diagnosis and treatment.
Benefits of Cancer Genomics Research
One example of the success of genomic research is the development of vemurafenib (trade name Zelboraf®), which was approved by the Food and Drug Administration (FDA) in 2011. Vemurafenib is a cancer treatment that targets a form of melanoma arising from a specific mutation in the BRAF gene.
As researchers survey and catalog the results of various projects over the years, they have uncovered genetic similarities between seemingly disparate forms of cancer. For instance, mutations in the HER2 gene have been revealed in breast, bladder, pancreatic and ovarian cancers.
Cancer Immunotherapy at Issels®
Genomic diagnostics are an important part of the Issels® comprehensive immunobiologic core treatment. These tests are invaluable in providing essential information to help us identify causes of the disease and develop personalized cancer immunotherapy programs.
Contact us to learn more about cancer vaccines and other treatments at Issels®.