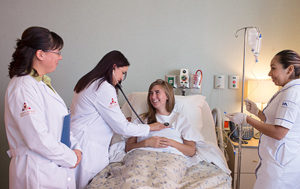 At Issels®, we recognize that successful cancer treatment is designed for a patient's individual needs. This immunotherapy approach recently saved the life of one woman whose recurring breast cancer was spreading to other parts of her body.
"Two to Three Months to Live"
In 2003, Judy Perkins of Port St. Lucie, Florida underwent a mastectomy after being diagnosed with breast cancer. Just over two years ago the cancer returned, resulting in tennis-ball-sized tumors throughout her torso, including the lymph nodes.
This time around, Perkins was treated by Dr. Steven Rosenberg and his team at the National Cancer Institute. Rosenberg's career has been devoted to the field of immuno-oncology, which involves finding ways to help the body's own immune system attack and destroy cancer cells.
Weaponizing the Immune System
Rosenberg and his team began by obtaining samples of the tumors to sequence DNA and analyze tumor-fighting immune cells called lymphocytes. The scientists were then able to identify the specific gene mutations that allowed cancer cells to multiply and spread.
After determining which lymphocytes were most effective against the mutations, the team grew those cells in the lab and re-introduced them to Perkins' system. In addition to doses of interleukin 2 and an immunotherapy drug approved by the FDA in 2017, Perkins received one last round of chemotherapy.
All tumors disappeared, and Perkins remains cancer-free today. Rosenberg is optimistic that this success will propel immunotherapy research to more breakthroughs.
Personalized, Integrative Cancer Treatment at Issels®
Many patients with advanced and therapy-resistant cancers have achieved long-term remission through our cancer treatment programs. Contact us to learn more.