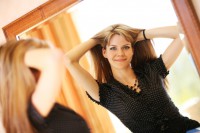 What happens when a patient responds to cancer immunotherapy that, according to advanced medical knowledge, shouldn't work? Scientists are studying four recent cases where cancer treatment "broke the rules."
Exceptions to the Rule?
Four women in different countries, who knew each other only through an online support group, were diagnosed with the same rare form of ovarian cancer. Each one persuaded her doctor to use immunotherapy drugs, despite conventional wisdom that the treatment was useless against ovarian cancer.
Against all odds, the patients responded positively, with their tumors going into remission and the women returning to their normal lives. Researchers are hoping to gain insight that will help develop cancer immunotherapy treatments with a broader range of applications.
Why Doctors Were Caught by Surprise
Tumor cells have an ability to deflect attacks from the body's immune system, allowing them to multiply freely. Immunotherapy is a way of helping the immune system identify and kill cancer cells.
So far immunotherapy has been successful primarily with lung cancer, melanoma and forms with many genetic mutations. By contrast, hypercalcemic ovarian cancer, which is the form that affected the four women, is driven by a single mutation.
The theory is that a lower number of mutations "tricks" the immune system into disregarding the threat posed by cancer cells. Based on the positive results in the women with ovarian cancer, scientists at Johns Hopkins and M.D. Anderson Cancer Center are conducting trials with the aim of further refining cancer immunotherapy.
Comprehensive Cancer Immunotherapy Treatments at Issels®
Our individually created immunotherapy programs are often successful where other conventional treatments have failed. Contact us for more information.