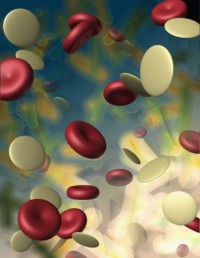 Immunotherapy is changing the cancer treatment landscape. Advancements in targeted cell therapy may make chemotherapy obsolete within our lifetime. The biggest problem with traditional cancer treatments — chemotherapy, radiation and surgery — is that they destroy healthy tissue along with diseased cancerous tissue. By shifting the battle field from the tissue level to the cellular level, targeted cell therapy aims to destroy only cancerous cells, leaving healthy cells whole and untouched.
Like other immunotherapy cancer treatments, targeted cell therapy makes use of the body's own disease-fighting mechanism, the immune system. The immune system employs two methods of fighting cancer and other pathogens that attack the body:
The immune system floods the area under attack with antibodies, free-floating proteins that search out and lock onto invading pathogens.
T-cells generated by the immune system seek out and destroy invading pathogens.
While some immunotherapy treatments focus on boosting the effectiveness of the body's immune system, targeted cell therapy concentrates on the immune system's most lethal soldiers, T-cells. The cancer community is improving its ability to direct T-cell receptors to target, bind to and destroy very specific types of cells, including cancer cells.
As reported previously, the British company Immunocore has engineered an artificial T-cell receptor that readily binds cancer cells to T-cells without interfering with healthy cells. Immunocore's artificial receptor differentiates cancerous from healthy cells by recognizing the unique patterns of small proteins that protrude from the surface of different types of cells.
Issels Integrated Oncology offers two Autologous Dendritic Cell Vaccines that harness the body's immune system and its cancer-annihilating T-cells to fight cancer at the cellular level.