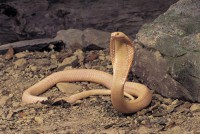 Scientists are optimistic about attacking cancer cells with the poisonous venoms most of us desperately try to avoid. Dr. Dipanjan Pan led a team at the University of Illinois that has successfully and safely targeted breast cancer and melanoma cells in a lab.
While being able to kill cancer cells and prevent them from multiplying is good news by itself, another important breakthrough is Dr Pan's success at concentrating the focus of scorpion, snake, and bee venom on the cancer cells without destroying healthy cells and ultimately harming the patient.
Dr. Pan and his team were able to "camouflage" the venom in a tiny particle. This takes the venom directly to the targeted cancer cells without allowing it to leak into the bloodstream of patients and damage the heart, nerve cells, or other healthy tissue.
The researchers discovered that venom from snakes, scorpions, and bees contain peptides and proteins that will attach to cancer cell walls. They also verified that bee venom contains a substance called melittin that prevents cancer cells from spreading. Bees produce such a small amount of venom that extracting a sufficient amount of the substance from them for laboratory testing or clinical use is impractical. The team developed a way to synthesize the melittin.
Dr. Pan stressed that, while the venom from snakes and scorpions can be deadly, his team is able to control the potency and utilize them as a possible cancer treatment. The positive results from cloaking these venoms in nanoparticles could lead to human trials in then next three to five years.
For more than 60 years, Issels Integrative Oncology has been providing safe and successful immunotherapy.